Pavillion Roof Park Shelter | Baxland Range (4000 Series)
Pavillion Roof
Sizes
Posts / materials
Accessories
Services
Baxland Range (Pavilion roof shelters)
Pavilion shelters offer an economical alternative to the Oxley range of shelters. They are perfect structures for schools and kindergartens increasing effective shade space.
Keep it simple or add furniture and a BBQ for a personalised structure (see Accessories for further information)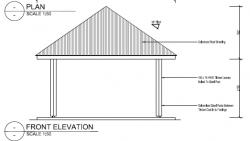 Our shelters come in standard sizes, the most popular being:
3m x 3m (BP4000)
4m x 4m (BP4001)
5m x 5m (BP4002)
6m x 6m (BP4003)
We can design your shelter to match your requirements so speak to us today about larger or customised sizing options.
Posts
Our unique post design is a timber clad steel post giving the structural integrity of steel with the look of timber.
Alternatively for an all steel shelter, steel posts complete the look of your shelter and can be powdercoated or painted.

Materials
Our shelters can be fabricated from a variety of materials, the most common being timber and steel.
All steel is hot dipped galvanised and can be painted or powdercoated in your choice of colourbond colours. Click here to see your choice of Colourbond powdercoat colours.

Roof Cladding
Colourbond is our standard roof cladding. Alternatives such as XRW, Ultra, Stainless Steel, Shingles and Tiles are also available. Click here to see your choice of Colourbond roof colours

Fixings
All structures come with standard with galvanised anti-vandal fixings and brackets but can be upgraded to stainless steel for more corrosive environments.
Accessories
A number of accessories are available in a wide variety of materials, finishes, colours and effects to customise the look of your shelter. These include:
Cupolas
Shade screens
Balustrades
Post sleeves
Site seat modules and tables

Add a picnic setting or a custom designed piece of furniture to your shelter to ensure regular use (see our Furniture product page for further information).
GRDC can also supply and install electric BBQs so speak to us today about including furniture or BBQs in your next open space project!
GRDC offer a complete project management service from design through to installation and offer the following services

Soil Reports
Some larger shelters will required soil reports (or geotechnical reports) to assess the location of the proposed shelter, the findings of the report may effect the design of the shelter eg. slab size, footing depth etc. GRDC are happy to organise a soil report on your behalf for a small fee.
Building Permits
Most shelters installed in Victoria require a building permit, if you are unsure if your project requires a permit please contact us and we will make enquiries on your behalf. GRDC have years of experience in obtaining building permits, we are happy to organise the permit and all associated inspections on your behalf for a small fee.
Design only
Whether it's for budgeting purposes, obtaining grants or submitting proposals for community groups, GRDC can produce engineered BA drawings and workshops along with the engineering certification for your shelter design to be fabricated and installed at a later date.