GR Design and Construct is a specialist Australian manufacturer at the forefront of the outdoor building industry providing innovative solutions for open space structures.
GR Design and Construct can create standard and customised engineered structures and buildings for outdoor spaces. The structures include pre-fabricated products such as picnic and general purpose shelters, park accessories, public amenities, pedestrian bridges, viewing platforms and boardwalks.
SERVICES PROVIDED
Project management
Drafting
Design Engineering
Geotechnical investigations
Land Surveys
Fabrication
Installation
Preparation of planning & building documents
Project investigation and estimation

DESIGN / ENGINEERING
We provide a design and engineering service catering for all your needs from design and planning through to completion. Our engineers are fully qualified and registered structural engineers with experience in timber, steel and concrete construction.
CONSTRUCTION
We are a registered commercial builder with a solid network of qualified and experienced sub-contractors to utilise at every stage of the construction process. All building works undertaken by GR Design and Construct are:
undertaken according to Australian standards
of the highest durability and safety levels
fully registered building sub-contractors
undertaken by builders with over twenty years experience
completed on time and on budget
OH&S
A full and comprehensive Workplace Safety Manual has been developed by our office in line with current legislation. Our onsite contractors and employees are inducted annually on all such matters ensuring the workplace is safe and free from risk to our people and the general public. No task is so urgent and no service is so important that we cannot do it safely.
ENVIRONMENT
We are committed to caring for our environment, both natural and man made to the best of our ability. We will keep the workplace free from rubbish or debris and maintain all structures, plant and equipment to a high level of efficiency and functionality. We will minimize the use of consumables, especially water and energy having regard to their impact and we will refrain from discharging hazardous materials into the air, ground or water.
QUALITY
Our products are produced according to industry standards to maintain the highest durability and safety levels, with new designs always being developed to provide the market with the most innovative and cost-effective solutions.
Design and Construct Process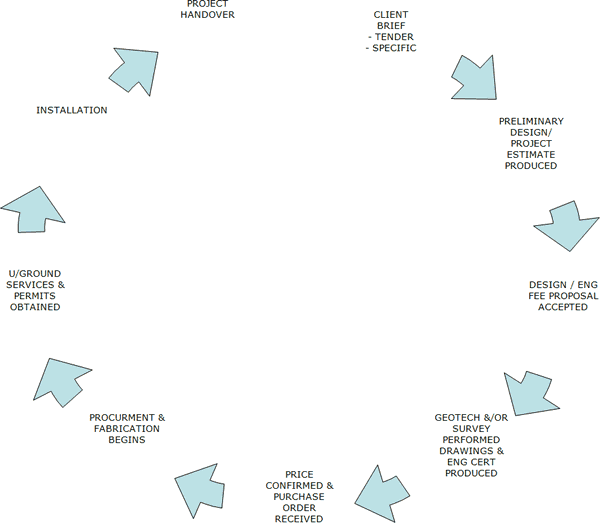 Certification & policies
LINKS
www.miracle.com.au

www.gough.com.au

www.streetandpark.com.au

www.greenplate.com.au